Robin McMillen, owner of Bailey Creek Pondscapes, was suddenly stricken with a severe and little known disease called Guillain-Barre Syndrome (GBS). GBS is a neurological disorder, which is triggered by a microbial infection. The body's immune system over reacts and begins to attack the protective sheath of the peripheral nervous system. Within one day Robin was paralyzed in his arms and legs, and transported to Virginia Mason Hospital in Seattle.
The vast majority of patients make a full or near-full recovery, but it can take several months to a year for full functioning to be restored. This long, difficult process can take its toll on even the most resourceful people. Robin is now in rehab at Kah Tai Care Center in Port Townsend, WA. He has yet to regain motion in his arms and legs, and longs for the day when he can use his body for building, sailing, camping and flying remote control airplanes with his sons.

Help raise funds for this much loved father of two, stone mason, builder, dreamer, and inspiration to many.
Contribute Today !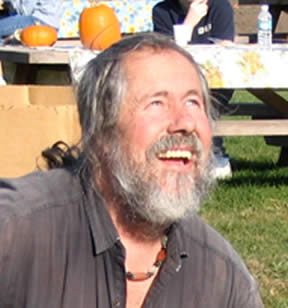 A fundraiser has taken place at Health Harmony Assistance which raised $2000 toward Robin's care expenses. However, Robin's expenses are ongoing and he could use our help. You can make donations to him by sending checks to Health Harmony Assistance and specifying in a note that it is for the Robin McMillen fund:
Health Harmony Assistance
429 Harrison St.
Port Townsend WA 98368
USA